Bitget, AI version trading. Investing in the cryptocurrency sector can sometimes seem like an obstacle course. Particularly when this activity is accompanied by a desire to benefit from specific tools such as derivative products. A stylistic exercise that it is better to refrain from improvising. However, many options exist to make this digital adventure accessible to as many people as possible. An investment strategy that the Bitget platform wishes to develop using artificial intelligence (AI). With a simple commitment: "to provide users with the tools and strategies necessary to invest with confidence according to their needs". An entire program !
Le Journal du Coin offers you this promotional article in collaboration with Bitget.
When Bitget meets AI
Many fields are currently discovering the development capabilities offered by artificial intelligence (AI). A logic from which trading activity in the cryptocurrency sector does not escape, quite the contrary. Because these two emerging fields are at the forefront of current technology in terms of innovation and potential benefits.
A dynamic in which the Bitget platform obviously wishes to be part, strong of its status as " largest crypto derivatives and copy trading exchange in the world ". Because the objective is to make this activity accessible to as many people as possible. That is to say also for beginner traders wishing to benefit from sophisticated investment methods without needing to master complex parameters.
Because as in all areas, the most important thing is to choose the right tool to be able to achieve great things. And what better trading companion can you find than artificial intelligence capable of calculating and anticipating at the speed of light?
"Bitget's AI functionality provides benefits to both novice and experienced traders. To meet different risk appetites, users can choose from a range of AI bots that offer different trading strategies: conservative, balanced, or aggressive. »

Bitget
Even more so if each proposed model makes it possible to respond to a specific area. Such as the Martingale principle, the logic of Grid trading or even more specialized strategies such as Commodity Trading Advisor (CTA). With Bitget, each investment model has its own dedicated AI!
The AI ​​Martingale Trading Strategy
One of Bitget's first forays into the artificial intelligence sector came in the form of a Martingale strategy. A logic based on a seemingly simple principle which consists of increasing the amount of investment after a market slowdown. This is in order to recover losses and increase the chances of profit.
>> Decision-making isn't your strong point? Leave it to the pros on Bitget (commercial link) <
A strategy that some consider to be particularly suited to the cryptocurrency market. Indeed, it requires relying on the certainty that the latter will continue to grow over time. Therefore in theory, even after a series of losses a single winning operation can compensate them and ensure profits.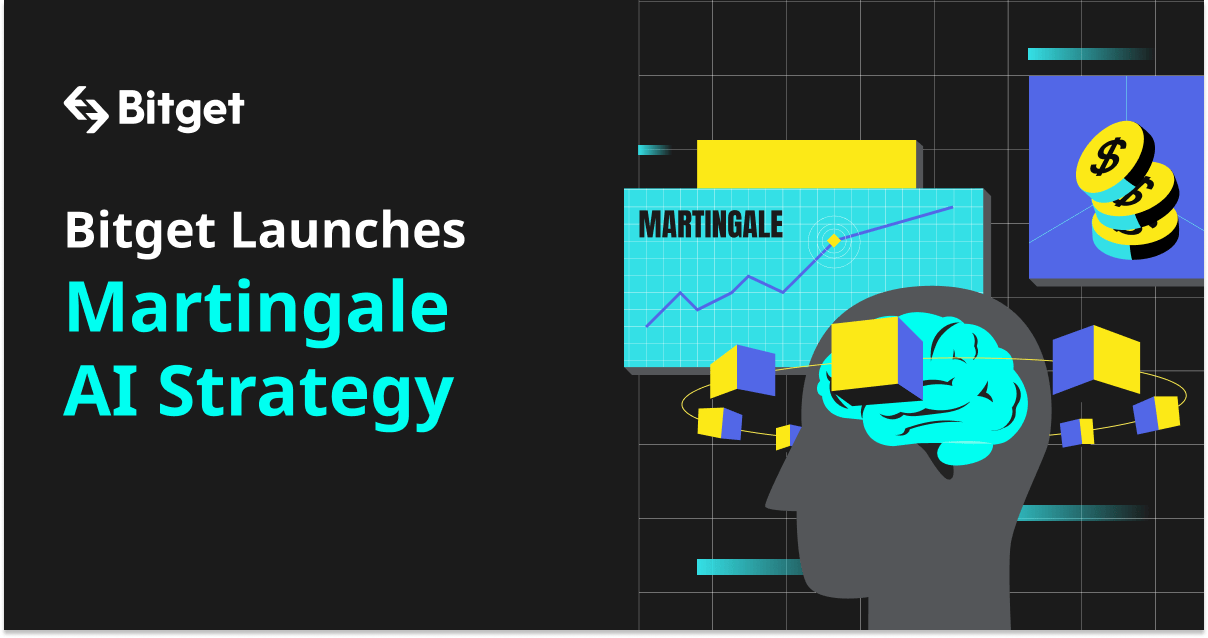 However, this betting technique from the 18th century was updated to taste by the Bitget platform with a good dose of artificial intelligence. Indeed, the proposed Martingale strategy helps investors have a broader overview of cryptocurrency market behaviors. This with the aim of refining their operations in defining their risk appetite and their investment frequency based on the recommended parameters.
In this case, the parameters provided by the AI ​​are "calculated based on historical market prices and asset fluctuations with Bitget's back-end algorithms." This makes it possible to provide reliable investment references to traders. All complemented by the possible implementation leverage up to 100x to be properly measured according to its capacity to absorb this type of high risk.
AI applied to Grid trading
Building on this Martingale experience, the Bitget platform then launched into Grid trading AI version last July. A strategy presented as "quantitative" whose objective is to use trading algorithms to automate transactions. The desired goal? To be able to make profits regardless of the trend in the cryptocurrency market.
>> Grid trading boosted with AI? It's on Bitget! (commercial link) <
In fact, this strategy consists of place buy and sell orders within a predefined price range and at specific time intervals. All associated with a logic of buying down and selling up to execute transactions.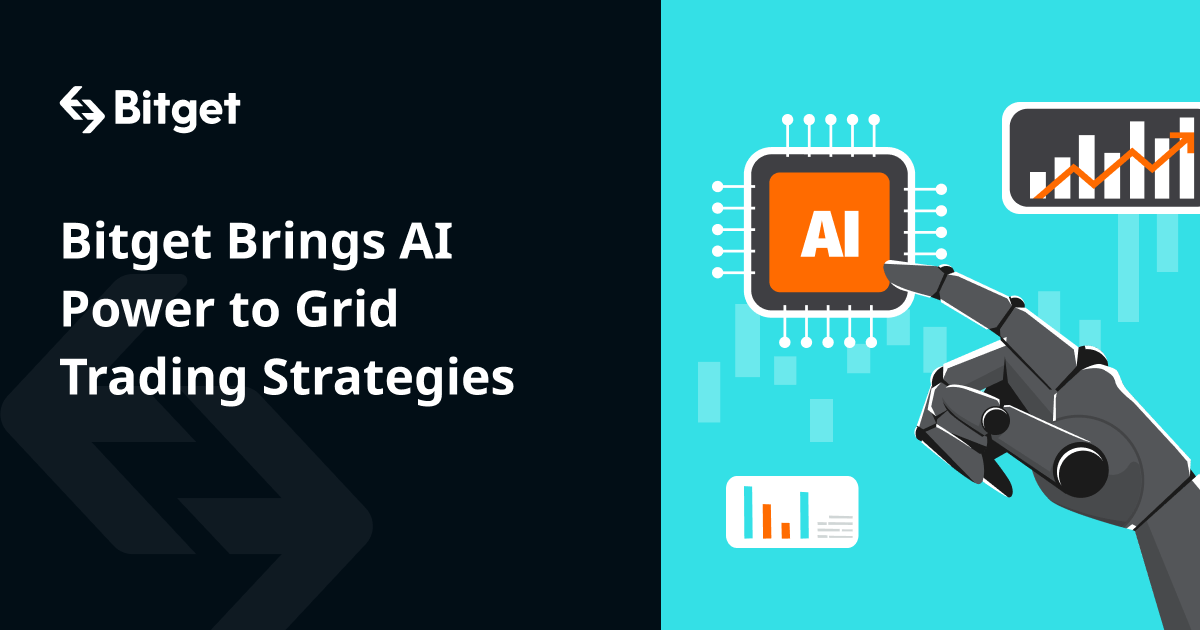 Grid trading strategies were until now largely reserved for experienced traders. But Bitget's encounter with artificial intelligence made it possible to make this crypto investment logic accessible to all investors. Because it is now possible to apply it without needing to master all of the parameters necessary for its implementation.
"In volatile cryptocurrency markets, Grid Trading bots help eliminate emotion-driven decision-making while still properly executing a pre-planned strategy, saving time and increasing productivity. efficiency. »

Bitget
A crypto version CTA strategy facilitated by AI
Next comes the type strategy Commodity Trading Advisor, more commonly known as CTA. A system initially suitable for futures contracts on commodities and stock indices. All based on an analysis of price trends and market volumes in order to develop an activity more suited to the short term.
>> Optimize your way of investing in crypto? AI does this for you on Bitget (commercial link) <
An index trading system that can take several different forms depending on the desired strategy. And a formula that the Bitget platform has been specially adapted to the much more volatile cryptocurrency sector. This is mainly to help investors seize opportunities and find the best entry points in this highly unpredictable market.
"It involves using programs to automatically implement index trading strategies to buy (long), sell (short), or go long and short on tokens with the aim of making net profits.

Bitget
Stop being your own best enemy thanks to AI
And once again in this specific case, the use of AI makes it possible to eliminate one of the worst enemies of any profitable trading operation: the weight of human emotions. Because a trading bot is "designed to follow predetermined rules, which improves execution efficiency as well as trading precision".
As Gracy Chen, general manager of Bitget, recalls, the integration of artificial intelligence in the crypto trading sector makes it possible to making hitherto complex strategies much more accessible and transparent. And "as a leading crypto exchange, Bitget will securely introduce AI to help traders generate stronger strategies and maximize their returns."
In order to complete this journey dedicated to the integration of AI, Bitget joined forces at the beginning of September with the pioneer of automated crypto trading 3commas. A partnership registered in its development strategy based on the "trade smarter" principle. One more step to allow its users to benefit from a trading experience at the cutting edge of current technology.
Thanks to artificial intelligence, stock up on Bitcoin, Ether and other less famous but promising tokens on the rising exchange. Register now NOW on Bitget to begin to familiarize yourself with this world teeming with new products and innovation (commercial link).