CoinGecko is one of the most popular and comprehensive sites for follow the evolution of the price of cryptocurrencies. It allows users to classify and compare tokens, NFTs and exchange platforms according to different criteria or categories, and also offers very useful features for DeFi enthusiasts which we will cover in the rest of this article. A few minutes of reading will be enough for you to know everything about this essential tool.
>> 10% reduction on your trading fees? Register on Binance (commercial link) <
Estimated reading time: 11 minutes
Links contained in this article may be affiliate links. The site may receive remuneration when an action is carried out using these links. Thank you for your support !
General overview of CoinGecko
History and key figures
Founded in 2014 by TM Lee (CEO) and Bobby Ong (COO), CoinGecko's mission is to democratize access to cryptocurrencies, by providing users with reliable data that can be used by everyone.
Unlike its biggest competitor CoinMarketCap, Coingecko is independent. The platform aggregates data from more than 860 exchanges and provides information on more than 10,000 different tokens.
In 9 years, the platform has greatly evolved and its adoption is no longer in doubt. With around fifty employees, it has more than 10 million users per month who view more than 200 million pages. Its smartphone application (iOS and Android) has already been downloaded more than a million times.
The company is present and very followed on most social networks, with for example 1.7 million subscribers on almost 500,000 on Instagram And 150,000 on YouTube.
Services offered
The main functionality of the site is todisplay the price of cryptocurrencies and NFTs updated in real time.
For each token, CoinGecko also offers a wide range of information, such as the price history, the history and usefulness of the token, the list of platforms where to exchange them, the addresses of its smart contracts on the different blockchains. ,…
Coingecko also offers educational content, in the form of videos and texts, notably through numerous free tutorials and guides, as well as some books sold on their site.
The platform also frequently publishes studies carried out by him, on various themes linked directly or indirectly to the world of blockchain and cryptocurrencies.
The company also offers access to GeckoTerminal, a platform dedicated to decentralized finance which we will return to in more detail later in this article.
>> Play it safe! Register on Binance, and save 10% fees (commercial link) <
Overview of CoinGecko features
Cryptocurrencies
On the site's home pagestart by choosing French among the 34 available languages ​​(1) then create an account (2) (necessary to use the "wallet" function of the platform).
In part (3) you will find key market figures with the number of tokens listed on the platform (which continue to evolve upwards and downwards), the number of exchanges on which CoinGecko relies as well as the dominance of Bitcoin and Ethereum and the fees of gas of the moment.
Below, you will see a table that lists the top 100 cryptocurrencies on the market by market capitalization, like our "house CMC". For each cryptocurrency, the table also indicates its name, its symbol, its price, its exchange volume over 24 hours, its price variation over one hour, 24 hours and 7 days.
The table can be sorted according to these different criteria (4) and filtered according to different categories (5). It is also possible to change the price display currency (6).
If you have created an account, you can add your favorite cryptocurrencies to your "Wallet" (7) by clicking on the star in front of the token name (8). The latter allows you to follow only the tokens that interest you, without having to search for them among thousands of others.
Token details
By clicking on a token, you will see a lot of information appear about it:
Detailed key figures (1):

TVL, total supply, … everything is scrutinized.
Links to official sites linked to the project (2):

you will often find a link to the project's whitepaper, its social networks as well as a list of compatible wallets. By clicking on the icon (3) you will have access to the list of addresses of the token's contracts on different blockchains, a very useful function if you use a Web3 wallet like Metamask or if you trade on decentralized platforms.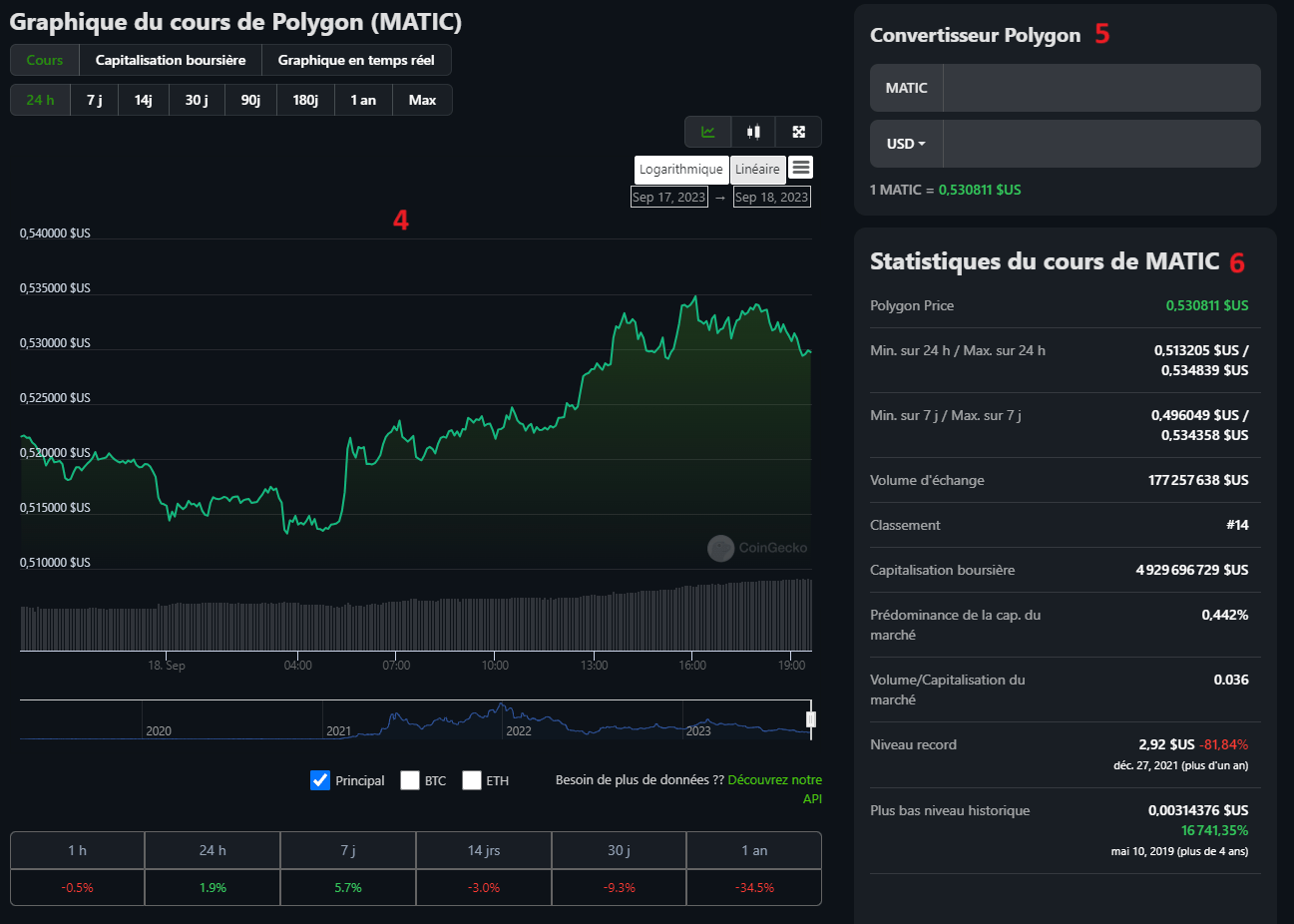 A graph representing the evolution of the price of the token over time (4) : it is possible to change the scale and type of representation.
A converter (5) : you can choose from a large number of fiat currencies and some cryptocurrencies.
Historical statistics (6) : highest price, lowest price…
A description of the project (7) : this part very interesting if you are researching a token. However, the information is not updated very frequently, and may no longer correspond to reality. Refer to the bottom of the page to view the latest news related to the token and get a more complete opinion.
Marketplaces (8) : this is the list of platforms (and pairs) which allow the token studied to be exchanged. Very practical if you trade "low cap" tokens or which have just been launched.
Exchange platforms
Coingecko offers a ranking of exchange platforms (1) divided into three categories (2): all centralized platforms, decentralized platforms and derivatives trading platforms (centralized or not).
Different data is accessible via three tabs (3):
Presentation :

you will find a confidence score assigned by a algorithm developed by Coingecko as well as the volume and number of visitors over the last 24 hours.
Cybersecurity : each platform is rated based on different tests.
Social : the platforms are classified by country, number of subscribers on X and Alexa rank (ranking of the most visited sites in the world).
Just like with tokens, you can click on the name of a platform to get more details. You will then find a very large amount of information such as exchangeable pairs, liquidity, etc.
Regarding decentralized platforms, we advise you to instead use GeckoTerminalmuch more complete, which we describe in the following paragraphs.
NFT
The site allows you to obtain data on cryptocurrencies linked to NFTs, but also on NFT collections (1).
These are classified by according to their trading volume over the last 24 hours, and we can see their floor price, the number of owners as well as the TVL.
As with tokens and platforms, you can obtain more information by clicking on the name of a collection (links to sites linked to the project, statistics, exchange platforms, etc.)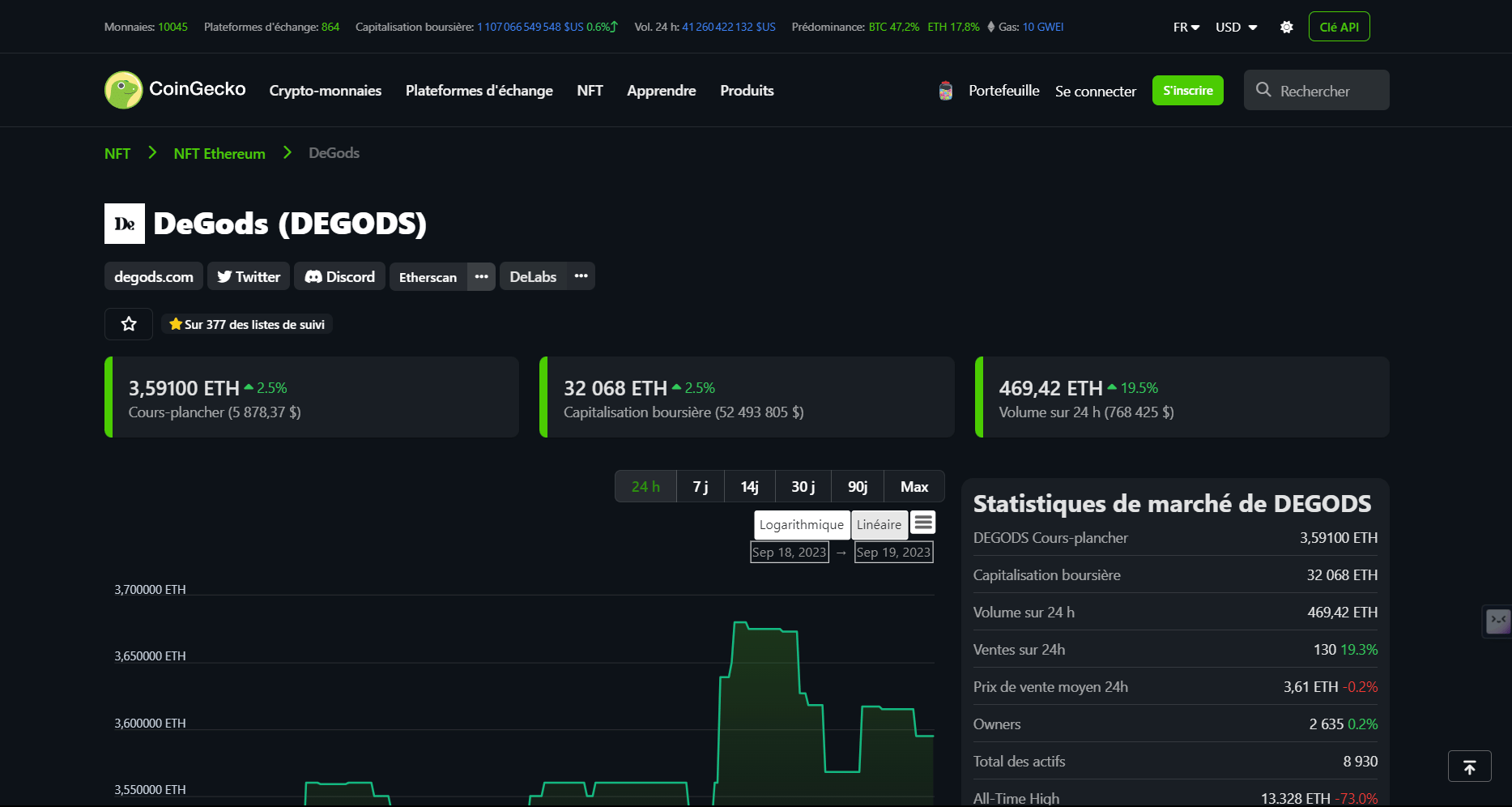 GeckoTerminal
Accessible via the "Product" tab, GeckoTerminal is a platform dedicated to monitoring decentralized exchange platforms, which allows you to see trading data in real time and offers more detailed information than CoinGecko.
She will be to you very useful if you trade tokens that are still little known to the general public to help you avoid scams and get an idea of ​​your chances of making profits. If you are an airdrop hunter, you will also find interesting information there, such as the list of DEXs on a blockchain or the list of the latest deployed pools.
You will arrive by default on a ranking of DEXs by transaction volume over the last 24 hours, with the number of exchangeable tokens and the number of liquidity pools.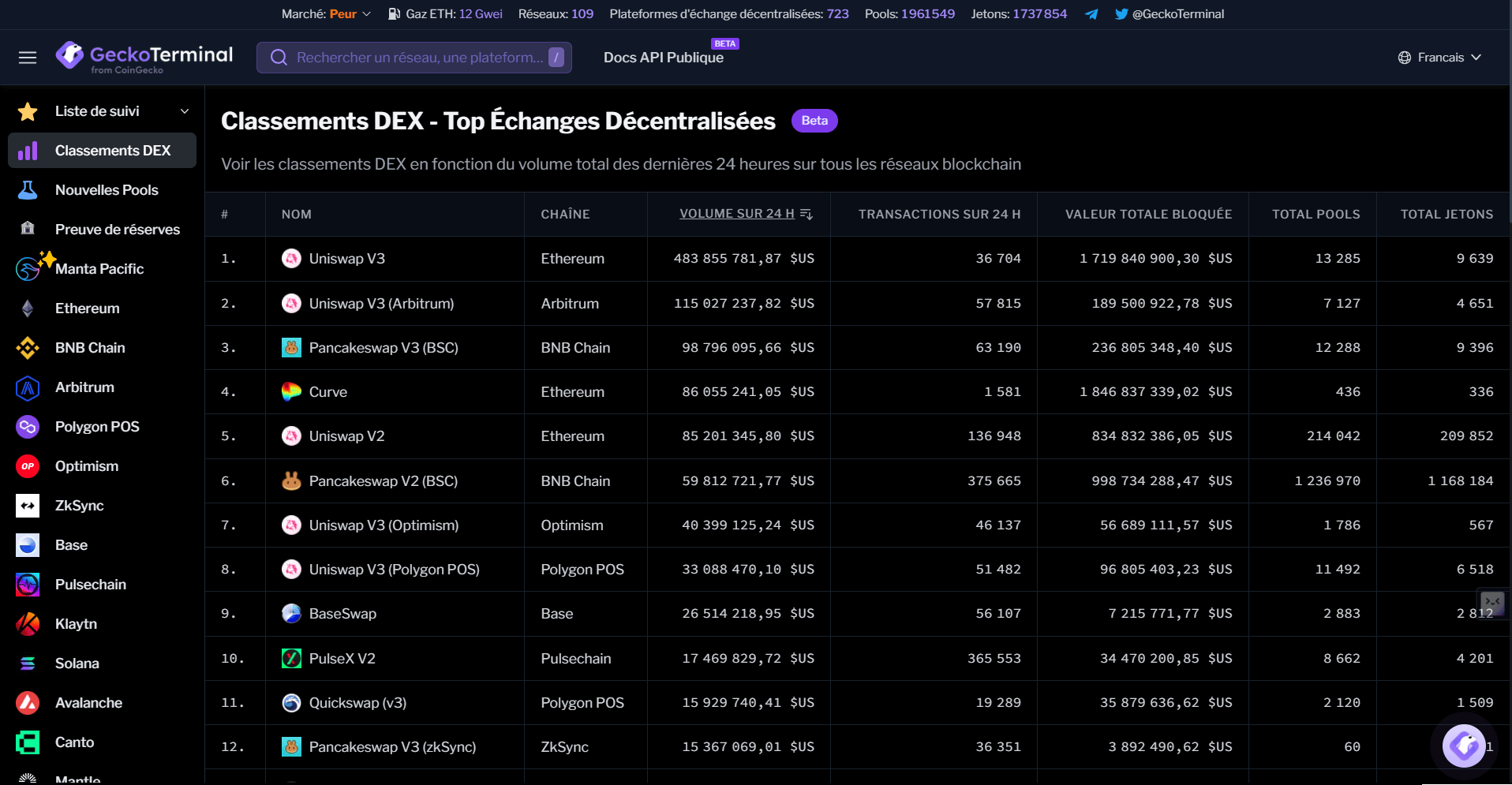 Using the left menu (1), you can display all the pools available on a blockchain, as well as relevant data concerning them (platform, number of transactions on the pool, volume, liquidity, etc.).
By clicking on a pool, you will see a price graph appear. Trading Viewas well as the list of the latest transactions that took place on the pool, the address of contracts, ratings and tools to detect scams…
The final word
CoinGecko is a platform that you can use daily to follow market developments. Thanks to its data that can be understood quickly and easily, it will also be your ally for carrying out more in-depth research, whether it concerns the largest exchanges or the latest, still little-known tokens of the moment.
To perfect your knowledge and discover the best tools of the moment for navigating DeFi, do not hesitate to consult the other articles in this series, where we talk to you about Nansen, De.fi and Chainlist, Defillama, Dune, Arkham Intelligence, Glassnode, Token Terminal, Trading View And CoinGlass.
If you've already read everything, we'll see you next week to explore a new platform!
For you, blockchain technology and cryptocurrencies will soon be at the heart of the daily lives of each of us. You can gain exposure to Bitcoin, Ethereum and other tokens on the leading exchange. Register quickly on the Binance platformand save 10% on your trading fees by following this link (commercial link).