With the Google Nest Hub 2nd gen (2021) you not only have a speaker, but also a screen to consult a lot of information. A practical product which today only costs 59 euros instead of 99 euros during the French Days.
Homes are integrating more and more connected objects to make your daily life easier. Among these smart devices, you will find smart display or speaker with connected screen. Google has a few, including its 2nd generation Nest Hub. It serves not only as an assistant, but also as a speaker. During the French Days, it is possible to get it for less than 60 euros.
What we like about the 2nd generation Google Nest Hub
A compact 7-inch connected screen
Built-in Google Assistant and Cast technology
Sleep tracking and good audio quality
On sale for 99.99 euros upon release, the Google Nest Hub 2nd generation (2021) connected screen is today on sale for only 59.99 euros on the Auchan website.
If, subsequently, the offer mentioned in this article is no longer available, please take a look below to find other promotions relating to the Google Nest Hub 2nd generation (2021). The table updates automatically.
Where to buy

Google Nest Hub 2nd generation (2021) at the best price?
A device that is always effective
For a second generation, the Google Nest Hub of 2021 does not change greatly from its predecessor, it is even inspired by it. It keeps the minimalist look with a base that will fit into any room in your home, but with more generous dimensions and a heavier weight. To keep a compact format, the smart display again offers a 7-inch IPS panel. It will therefore not take up too much space on a nightstand, and it is large enough to consult the desired information in a readable manner.
Moreover, the brightness of the screen adapts to the environment of the room to avoid being dazzled by the screen after dark or in the early morning. Obviously, Google's OS is included, and works around the Google Assistant and the Chromecast function. You will also be able to control your connected objects, request the weather, current news or scheduled appointments without difficulty.
A better equipped 2nd generation
This generation especially brings new features to the interior: an additional microphone, so that the screen is more precise in voice recognition. It picks up voices better, even distant ones. On the audio side, there is a 43.5 mm transducer offering more power and better sound quality. The Nest Hub is more than enough to wake up and enjoy radio and music in this setting.
No need to keep your watch connected to track your sleep, the Nest hub can take care of it. It is able to measure the duration of your sleep, but also the quality of it. How ? By capturing your movements, your breathing, variations in light or even hearing your snoring to determine the duration and quality of your sleep. Every morning, a summary of the night is displayed on the screen. All recorded data can then be viewed, on the application or directly from the screen.
For a more detailed opinion, do not hesitate to read our test on the Google Nest Hub 2ᵉ generation (2021).
8 /10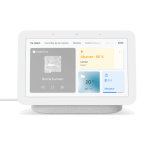 So as not to miss anything from the French Days in September 2023
The September edition for French Days officially began on Tuesday September 26, 2023 in France and ends next Monday, October 2. As of now, several merchants have already released their best promotions. Here are the offers that we recommend at Frandroid.
French Days by merchant
French Days by category
French Days by brand
To avoid missing any good deals from this event, here are some reflexes to adopt now so as not to miss any of the offers we recommend:
Follow us on our Twitter account @FrandroidPromos dedicated only to good deals (remember to activate the bell to receive notifications in real time)
Download our Frandroid application (available on iOS and Android) to activate notifications from the "Good Deals" category and thus receive new articles related to French Days in real time
Subscribe to our newsletter to be sure to receive preview offers (no more than one email per day, unsubscribe in 1 click, no distribution to third parties):
---
Some links in this article are affiliated. We'll explaine everything here.

---
Want to join a community of enthusiasts? Our Discord welcomes you, it is a place of mutual aid and passion around tech.