On the one hand there are USB microphones, easy to use, on the other the XLR, potentially more effective (at equivalent price) but more demanding. Indeed, the latter require XLR to USB interfaces, often imposing and rarely transportable. This is where Shure's Motiv MVX2U comes into play, which provides the same functions as a traditional interface, but in an ultra-compact and self-powered format.
>>> THIS INTERFACE HAS BEEN TESTED AS PART OF A COMPARATIVE:
SEE THE TESTED MICROPHONES AND OUR ADVICE FOR CHOOSING
An additional cost, but great possibilities
Externally, it's hard to get simpler than this little module. On one side, an XLR input, on the other, a USB-C port for connection to PC or smartphone. The model, made entirely of metal, is however more than a simple converter. Like a classic XLR-USB interface, it is capable of converting the incoming analog signal, from an XLR microphone, into a digital signal, usable on a PC or Smartphone USB interface. This model is not unique, since it already exists in the form of cables, but these are rarely of good quality. Above all, Shure has already released a similar product, the X2U, which relied on an integrated interface, slightly complex for beginners.
But the MVX2U has two advantages. Firstly, it is capable of delivering phantom power (automatically), which allows it to pair with condenser microphones.
This module is especially compatible with the Shure Motiv application on PC. Like what it is possible to do with the MV7 microphone, the manufacturer here gives control over numerous adjustments, such as microphone equalization, the integration of a high-pass filter, adjustment of the "distance to microphone".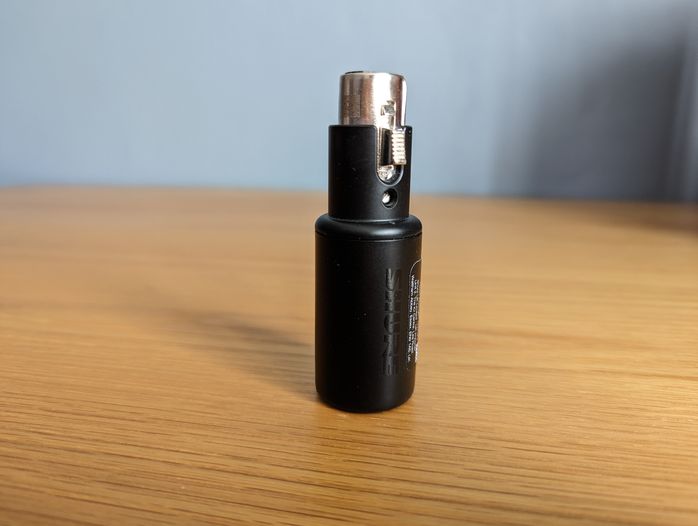 A very practical little extra, the MVX2U includes a 3.5 mm headphone jack output, for sound feedback and/or the sound of the PC or smartphone.
This device is obviously for lovers of XLR microphones, wishing to use this type of device in all circumstances, particularly on the move. On the other hand, its price of 150 euros implies a certain basic investment, since we are already in the price of a good microphone.
Our review of the Shure MVX2U
As part of our comparison of USB and XLR microphones, we were able to test this module for some time. This isn't really a surprise, but the promises are overwhelmingly kept.
The Shure MVX2U is particularly easy to use, since its great advantage is that it is turnkey, while still leaving room for sufficient adjustments via the application. It therefore remains perfectly suited to "beginner" users.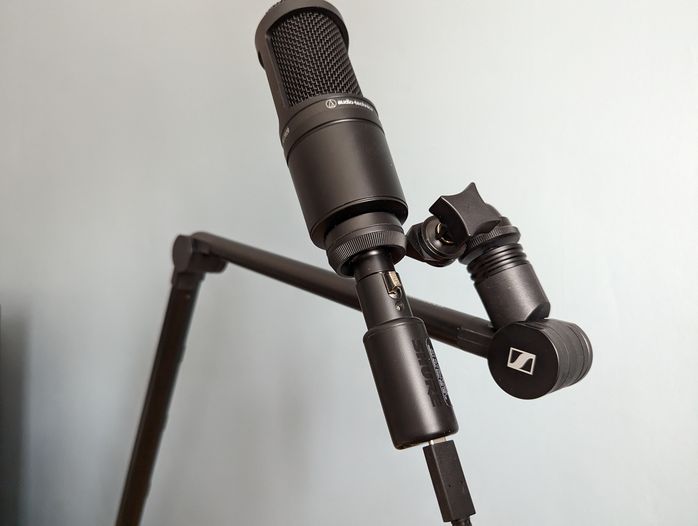 In particular, we were able to test this product with the Rode Podmic dynamic microphone, or the AT2020 condenser microphone from Audio-Technica (which requires a 48 V power supply). The capture quality is just as good as with our Rode Procaster podcast interface, although the latter displays more advanced vocal enhancements. The strength of the Shure, compared to the Rode interface, is its automatic gain adaptation, which avoids any problem of saturation or too low pickup. The gain can exceed 60 dB, the model is largely capable of powering the most demanding microphones, such as the famous SM7B.
We also noticed that the headphone output was powerful enough for most living room headphones.
Our only concern comes more from the shape of the product, since the length, which creates an excrescence once connected to a microphone, does not adapt well to very short bases. Apart from that, it's difficult to ask more from the device. Certainly, the price makes it a product that is not for everyone, but this price is ultimately not high compared to other specific microphone accessories.
Specifications
Type: XLR-USB interface
3.5mm jack output
Built-in 48V phantom power
Max gain of 60 dB
Integrated DSP with automatic gain
Shure Motiv app
Price : 150 euros
---