It's another year, another quarter, and just like clockwork, the population: One gets a new update to keep things fresh for players. The popular VR battle royale game has topped the Quest charts since its debut several years ago and is now transitioning into a brand new mode of action: free-to-play.
These changes come hot on the heels of the Sandbox update (Opens in a new tab) which launched late last year and debuted an all-new level editor that allows players to create their own levels, and debuted with over 1,000 deathmatch maps for players to roam on. There's a reason it remains one of the best Quest 2 games of all time (Opens in a new tab) You can play today.
Now, with an upcoming update, developer BigBox VR hopes to bring in more players than ever before by reducing the cost of entry to zero in Quest 2. (Opens in a new tab) and Quest Pro. Players who enjoy the game and want to continue earning in-game rewards can purchase an All Access ticket for around $10. As the title of the article suggests, this update also includes a graphics update for Quest as well as a bunch of other things.
I got to meet the team at BigBox VR and got all the details on what's to come. Here's what you can expect from Population March 2023: One update when it launches March 9th.
Population: One to play for free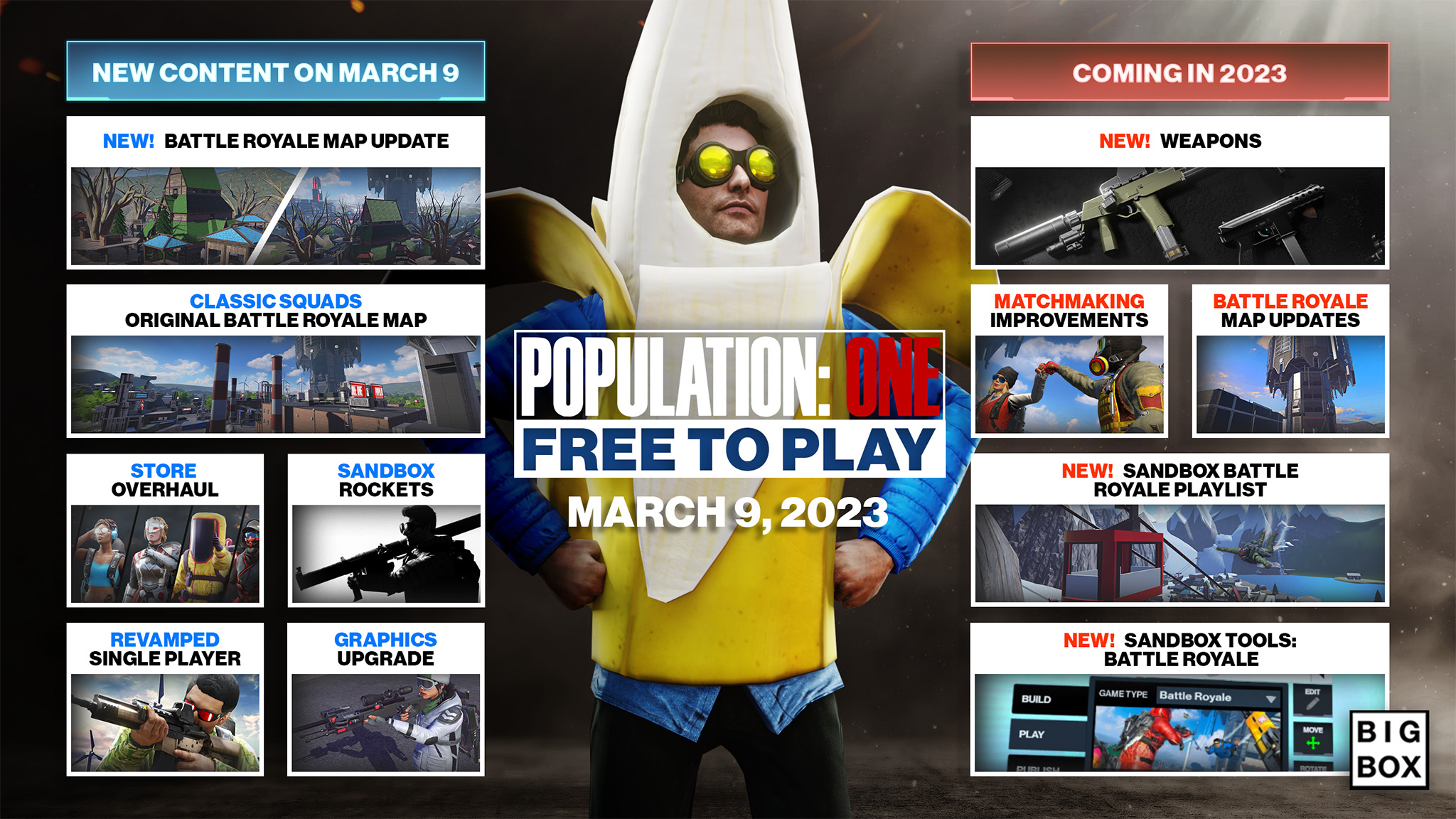 The biggest headline in the update is, of course, the new free business model. On Quest, you will be able to download the game for exactly zero dollars and start playing right away. In imitation of what we saw when Gorilla Tag finally launched in the Quest store last year, Population: $20 will remain on PC.
As was the case with that game, Residents told me: one of the developers this is mainly to discourage fake accounts that are so easy to create on the PC platform. To offset the cost, players who purchase the game from the Steam or Rift stores will receive exactly $19.99 in in-game currency (Bureau Gold).
As part of the move, BigBox VR has completely overhauled the in-game store. Instead of just purchasing a set of premium items for a set period of time, players will be able to browse a catalog of options including character models, gun skins, and more.
More than 100 new items are being added on March 9th with the launch and players can still use their Silver to purchase different types of items from the Seeker Silver Shop. In other words, players can pay for some items while others have to be earned using in-game tokens.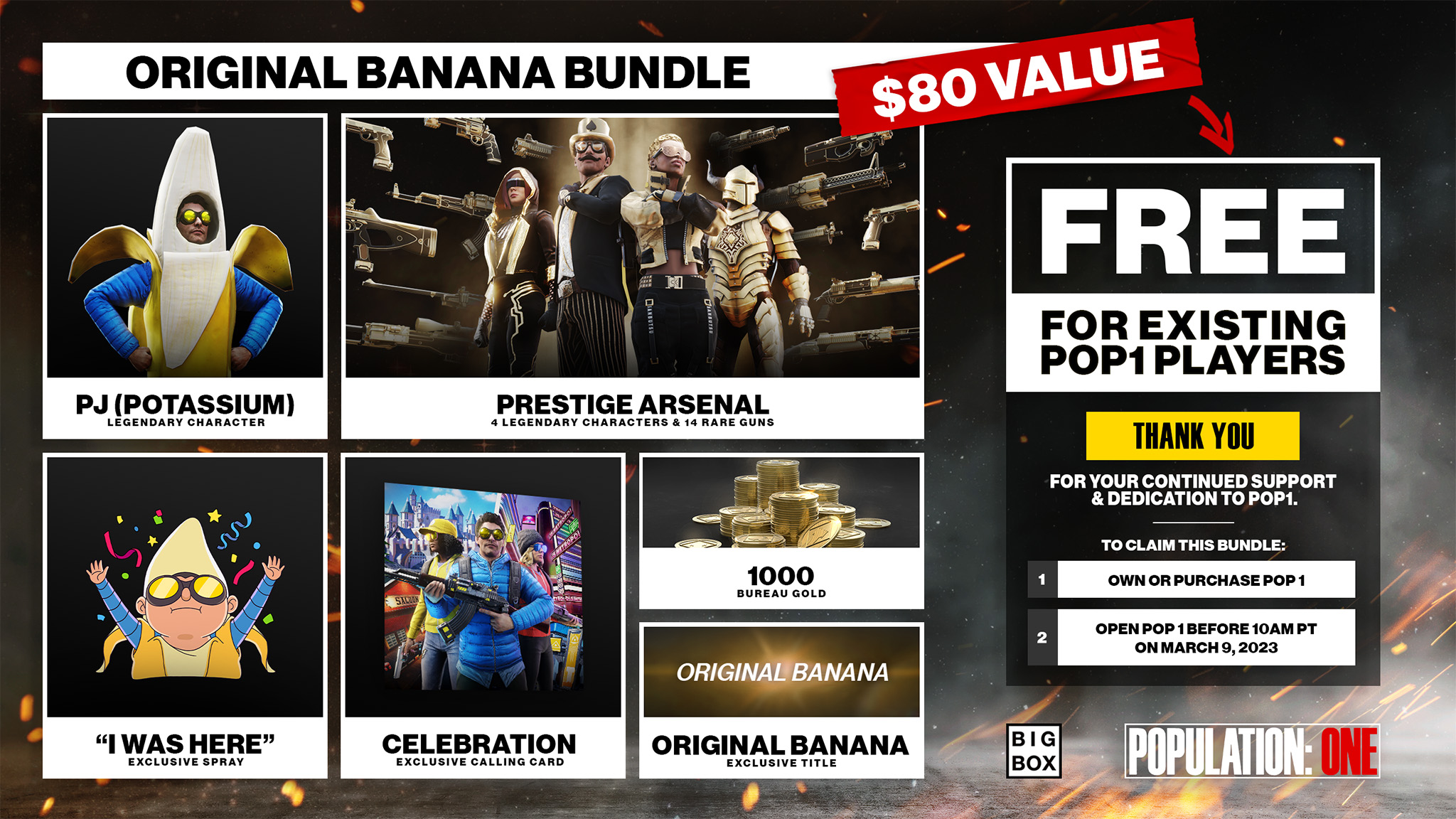 Likewise, existing players will receive a wealth of items for their loyalty to the game, all of which cannot be purchased or earned in any other way. On March 9th, all existing players will receive the original Banana Pack which includes:
The legendary skin of "PJ Potassium"
Prestige skins (4 skins)
The Complete Prestige Rifle Set (14 lashes)
Exclusive Title: "Original Banana"
Exclusive calling card: "Celebration"
Exclusive Spray: "I Was Here"
1,000 office gold
All Access Pass
As Kaden "bagel-bytes" Nugent of the team told me "Our core users are very, very important to us. They made the game what it is today, so we want to reward them right."
The $10 All Access Pass is purchased with everyone else's in-game currency — 750 Bureau Gold, to be exact — which means PC players are essentially included in the game's $20 price; They will just have to use their Bureau Gold to unlock it in the game first. All Access is a one-time purchase and is not designed to be a "season pass" like in games like Fortnite, so you don't have to keep buying it every few months.
BigBox VR told me the move to a free-to-play model was to encourage more growth. Population: has been one of the most successful games in the VR scene, and bringing the cost of entry down to zero should further cement that status.
Since the team is focused on expanding the game's audience, I had to ask the obvious question: Will we see Population:One on any VR platforms like PSVR 2? (Opens in a new tab) or pico?
Nugent's answer was pretty straightforward, if a little hopeful. "Obviously we want to be on every headset eventually…but that's not something we're going to focus on close the future. Affirmations added by me.
Graphics upgrade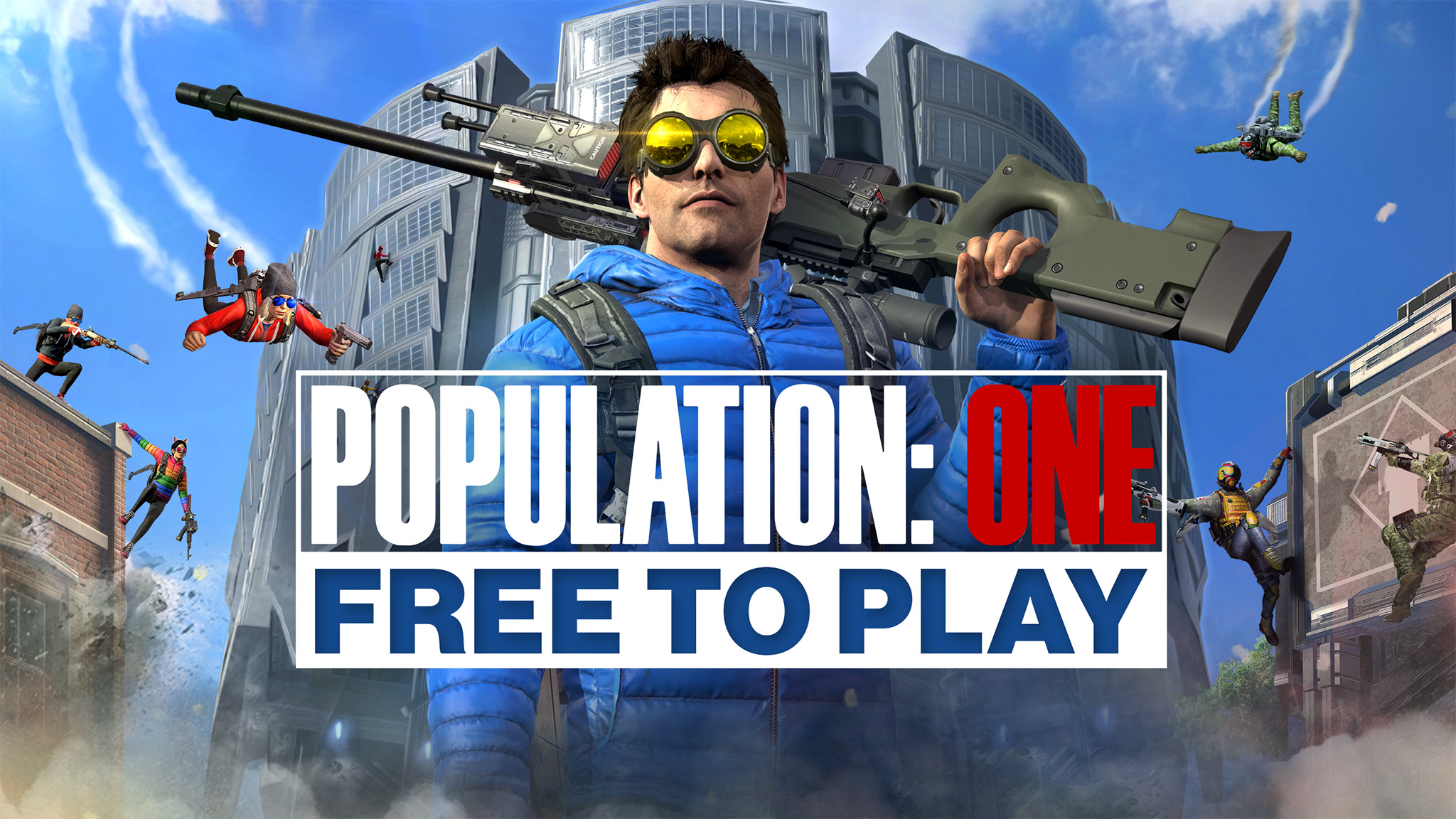 For experienced players, the first thing you'll undoubtedly notice is the shadows. Every character and object in the game now casts a shadow. Yes, it also means you'll see shadows of people flying around, so it's very difficult to get an accurate projection on someone with a sword.
It's absolutely amazing what this is "a little" Change to immersion and realism. You won't realize how flat everything looked before until you see this update for yourself. I wasn't allowed to take photos or video of my gaming session, but BigBox VR provided me with this photo to show off the new shadows and high-resolution textures.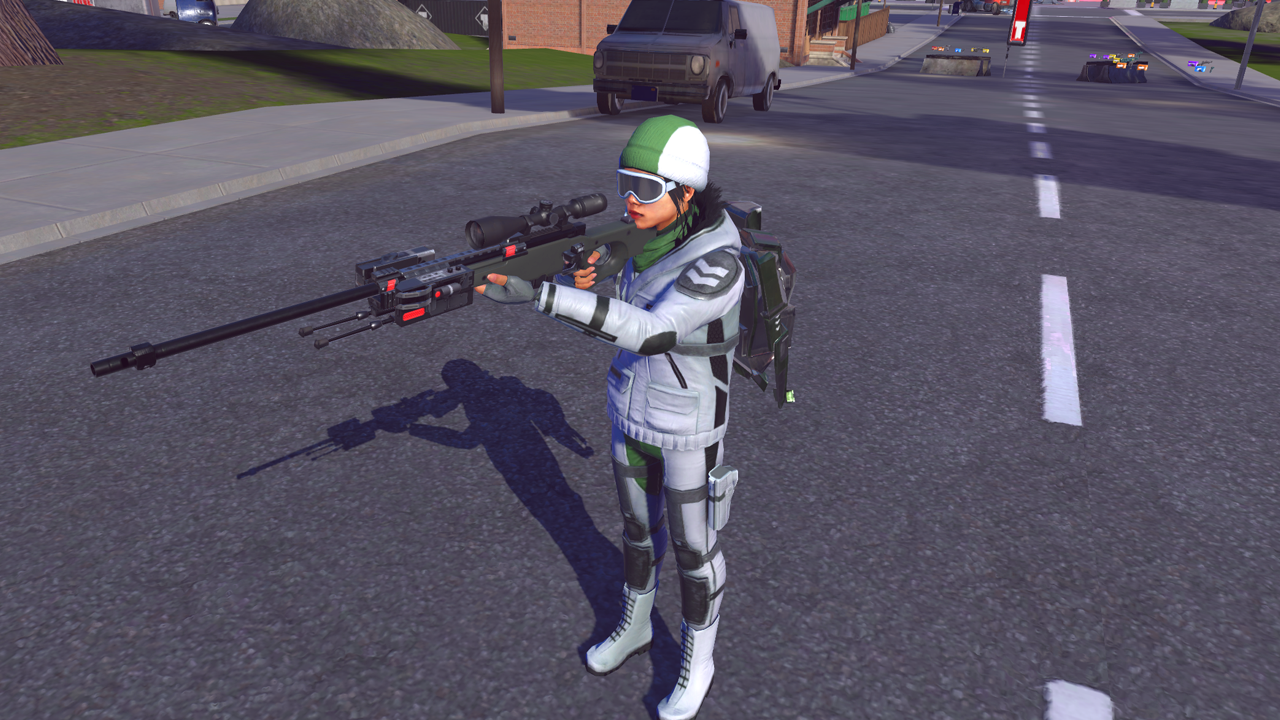 If that wasn't enough, BigBox VR has improved the accuracy of every texture in the game, from roads to buildings, characters to weapon models, and everything in between. Objects now look better defined and guns look incredibly detailed and much more realistic.
Finally, the game has seen a significant increase in accuracy and overall clarity that is sure to be understood while playing a battle royale. This is, of course, because you can now see things at a much better distance than before. The horizon is no longer something you have to stare at to see it!
This is all possible thanks to the fact that the original Oculus Quest hardware is no longer supported, giving BigBox VR the ability to use Quest 2 hardware to its fullest extent. PC players will also see better resolution, though there will be no additional "advanced" graphics options at launch.
Sandbox comes to the battle royale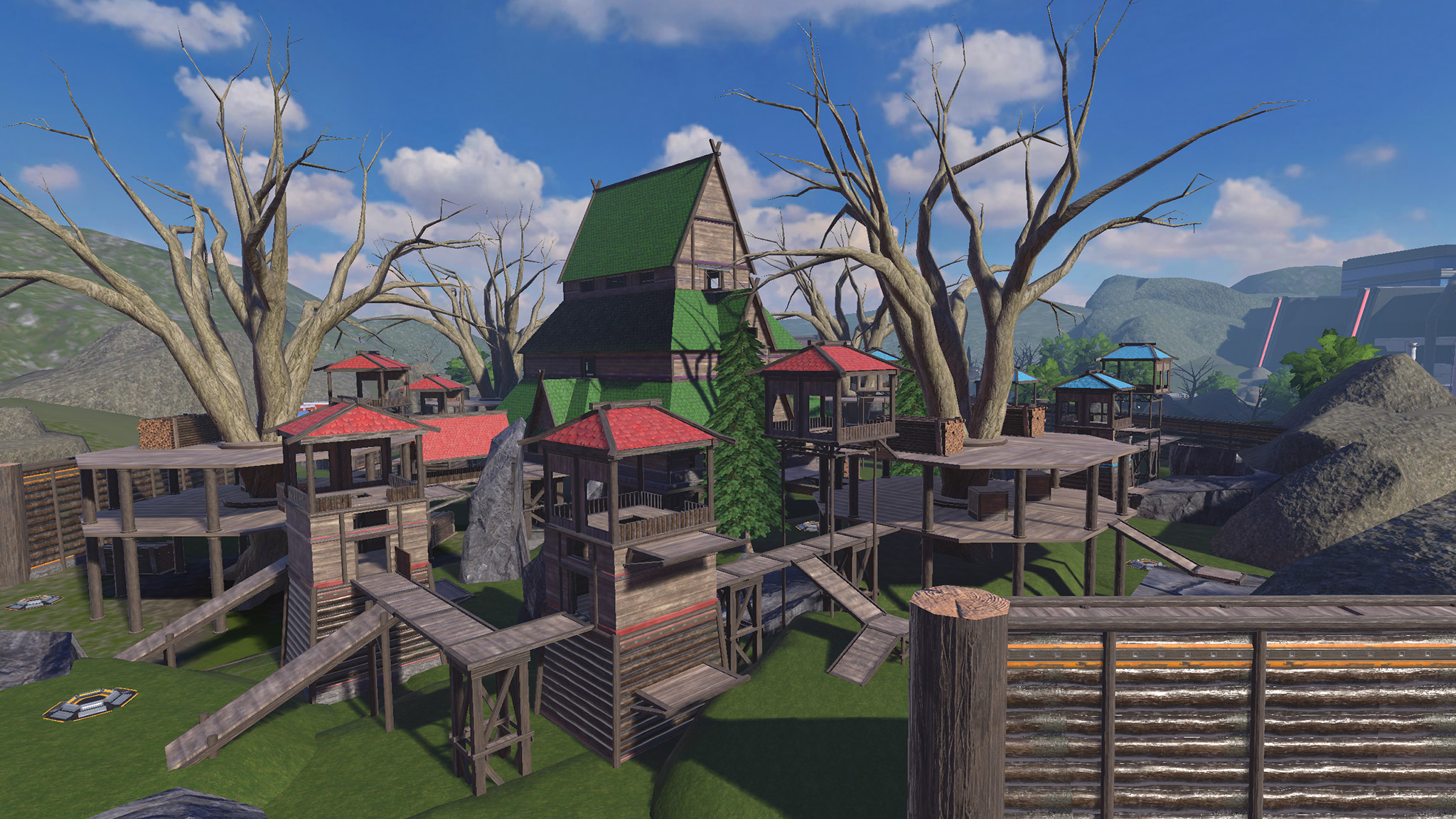 While the Sandbox was limited to only allowing players to host deathmatch, team deathmatch, or hangouts until now, that's all changing with this latest update. This happens in two new ways, the first starting on March 9th with the addition of a popular sandbox map to the existing battle royale map.
Sacred Village will replace Outpost Hill in the main battle royale mode much the way we saw The Frontier (Opens in a new tab)Kingdom (Opens in a new tab)and Metropolis (Opens in a new tab) Replace existing parts of the map. BigBox VR tells me that this is just the beginning of what they call an evolving battle royale map and that we will see more sandbox content appear in this larger map throughout 2023.
While many players will welcome the change, players nostalgic for the original map will be happy to know that an all-new battle royale mode – Classic Squads – is launching with the March 9th update that includes the originals: one map above all else that's starting to change.
In short, players can choose from three multiplayer modes on March 9: a classic battle royale map, an advanced battle royale map, or a sandbox match mode.
Later in the month on March 30th, BigBox VR is bringing battle royale mode to sandbox maps, allowing players to join in and design their own royale experiences using new or existing sandbox maps.
Aside from the size differences you might find in the sandbox map versus the game's battle royale map, sandbox battle royale sessions wouldn't see players drop into the map via dropships like they do now. Alternatively, map makers can decide where players will appear when the round begins.
The Sandbox itself is also getting some upgrade in the form of selectable player counts and added weapons. Hosts can now choose 12 or 24 player rooms and can also bring their own rocket launcher to play in sandbox lobbies. Yes, that means you can only craft rockets!
Better matchmaking and a slew of other changes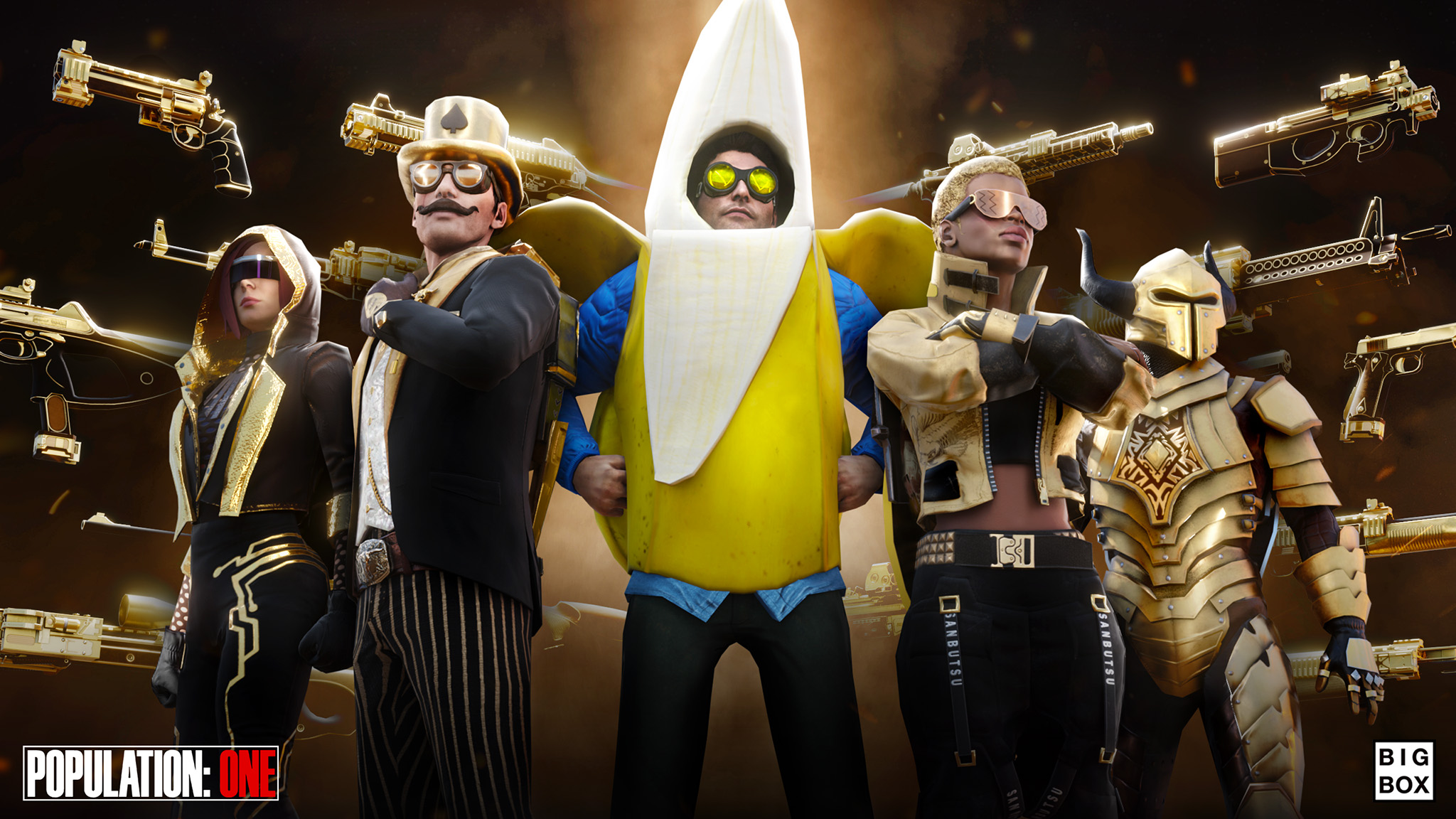 As with any major patch, BigBox VR tweaks certain aspects of the gameplay to improve things for players across the board. This begins with matchmaking which will now rank players into lobbies of players of similar skill. While BigBox VR has its own skill grading method that falls under the hood, players will generally be categorized into one of two groups: low skill level/beginners, and everyone else.
On top of that, the bots are so improved that the team is confident enough to let them into low-skill multiplayer lobbies that aren't yet full. These two things together should greatly help low-skill and novice players adapt to the game's mechanics and levels without being instantly killed by a player at level 60.
With that said, if you're a lower-skilled player and you chat with your friend who turns 60, they'll have to play a little bit of defense because you'll be drawn into the lobby to match the player with the highest skill level. In addition, bots will no Run highly skilled lobbies.
If you are just starting out and prefer to experience a game with only bots, the new single player mode will put you in lobbies with only bots. These bots can then adjust the difficulty based on your skills in a series of 20 matches. Once you complete all 20 matches, you will earn the "Outstanding Character Appearance Award" that you cannot get in any other way.
BigBox VR also revamps its moderation tools, making it easier to mute and report hateful or toxic players. That would be a huge relief to anyone who's ever encountered someone like this in a multiplayer game.
Finally, there are a slew of tweaks to change things up a bit. BigBox VR says it has adjusted damage and range values ​​to correctly classify weapons as close, medium, or long range.
Players can now only carry one banana in their backpacks, but it will instantly heal 100 health – this is as opposed to 50 health per banana, previously.
Items that heal over time will see their healing stop once the player takes damage. This should fill the loophole where players chug soda and shoot seemingly endlessly without dying.
You will also notice that the ghost players can move more quickly which adds to the excitement of the battle royale.
---